We'd like to help you reclaim your space this bank holiday weekend, so here's an offer to help take those unwanted items off your hands. Plus, we've got some tips to help kickstart your clear-out.
Get 10% off your next order with us when you order labels here before 10th June 2015.
Long weekends provide the perfect opportunity for clearing out the attic, spare bedroom, shed or garage, and if like many people you're planning on a spring-cleaning session during the upcoming bank holiday, you might want to read through the following tips on effective decluttering. If you do decide to sell, donate or give away any of your old bits and pieces we can help, with 10% off between now and 10th June. 
How to declutter with determination
If you find it difficult to part with old bits of clutter around the house, it can help to draw up a set of rules and stick to them. Here are a few of our favourites to get you started:
– Kick things off by establishing a designated 'no clutter' zone: you could start as small as a table or smaller room, and work from there. This space can act as your nerve centre for the entire tidying project, and you can set yourself a goal of extending this clutter-free environment to the rest of your home.
– Sort everything into 'sell', 'throw', 'donate/gift' or 'keep' piles. You can always reduce these down further later on.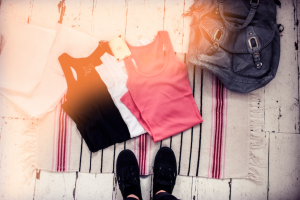 – Go digital. Books, CDs and DVDs can look great when they're lined up neatly, but if you no longer have the shelf space to house all those heavy tomes and box sets, it may be time to give them a new life elsewhere. You can start by drawing up an inventory, then taking a look at which of your favourite films and novels can be replaced affordably with digital copies. You may also find that one watch or read was enough for much of your collection. Once you've identified which books and other bulky items you want to part with, you could use our send service to deliver them to new owners; this offers good value for sending heavier items.
– Apply the one-year rule. If you're sorting through old clothes, think about when you last wore them and how likely you are to do so again: if it was more than a year ago, chances are they're just going to continue gathering dust. The same rule can apply to kitchen equipment or other appliances: if you didn't get the bug for smoothie-making a year ago, are you really going to embrace it now? If not, consider finding your bulky blender a new home.
– What's it worth to you? When confronted with a difficult decluttering decision, ask yourself 'would I buy this now?' This can help you to think rationally about objects that may not be serving any good purpose in your home. If the answer is 'no', but you think it might command a decent price on eBay, put it in your 'sell' pile.
– Will it sell? If you're not sure whether your castoffs will attract interest online, it's worth using eBay's advanced search tool to do a quick bit of marketplace research. You can also try using Goofbid – a handy tool that tells you in real-time what's most popular on eBay based on which items have the most watchers and bids.
– Would a charity want it? Those items that don't look like easy eBay wins may still be useful to someone. You may be able to donate them to a charity – but take a look at this post from A Thrifty Mrs which details which items can't be accepted by most organisations.  Alternatively, you might want to send them out as gifts to friends and family.
Use our send service – with 10% off for spring clean season Many people hang on to old items that they assume will be difficult or costly to sell or give away – even if they're getting in the way and taking up a lot of much-needed space. But by making use of a service like CollectPlus, you can address these issues easily, as we delivery up to 10kg at competitive prices – particularly if you have heavier items to send.
You'll also benefit from eBay's seller protection rules, and up to £50 free cover and tracking on all parcels. Find out more about how we make the eBay experience even more convenient, here. We also make the experience of selling online even easier, with more than 5,800 conveniently-located collection points where you can drop off your parcels to be sent on to buyers or other recipients.
As you'll already know if you use our click & collec t and returns services, most of these are open early till late, and they include corner shops, newsagents, petrol stations and supermarkets. You can find your nearest CollectPlus store here. If you haven't used our send service before, we'd like to offer you 20% off your first order, in time for your big clear-out. Just head here to purchase the labels you'll need to send your parcels, and the discount will be applied automatically.
If you're sending out parcels regularly, you could also benefit from our volume rewards scheme.
Focus on the rewards By selling some of your unwanted junk, not only will you be freeing up space in your home and garden, you're also likely raise some cash in the process. Spring is the ideal time to embark upon an eBay selling spree, as you can use the cash you raise to top up your holiday fund.
Terms & Conditions: Promotional terms and conditions statement: The CollectPlus offer associated with promo code 'Mayx1510' is a temporary price change to the recommended retail price of CollectPlus send services. This offer is valid on your next send service order, bought from collectplus.co.uk only.
The promotional prices are valid until midnight 10th June 2015; any label purchased after this date will be charged at the prices published on the website at that time. Prices are subject to change at any point during the promotional period and we reserve the right to withdrawn the offer early. Any additional discount via a promotional code or loyalty discount is valid over and above the new temporary price, and subject to its own terms and conditions.
The CollectPlus Standard service takes typically 1 to 2 working days, and the Economy service 3 to 5 working days, from when the parcel is collected from store to first attempted delivery. All other terms, conditions and restrictions of using CollectPlus services remain in effect.